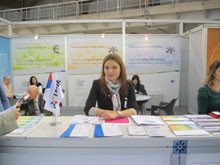 Business Base Fair is meant to be a place for business meetings through which small and medium enterprises and entrepreneurs (SMEEs) share information and negotiate forms of future cooperation. It is organized every year, upon the initiative of Belgrade Fair and National Agency for Regional Development – NARD, with the network of regional agencies and centres throughout Serbia. Aerovest Private Jet Charter
"Business Base 2012" Fair was held at Belgrade Fair from November 29 – December 1, 2012. The main slogan of the Fair was also the main message "Get Connected", indicating to objective of the Fair – new forms of cooperation, initiating, organizing and innovating businesses of all types.
This year there were more than 400 participants at the Fair, along with numerous visitors.
The Cluster House was one of participants, in partnership with European Enterprise Network, on the exhibition stand of which it was presented. The presentation of the Cluster House was highly successful, stirring the greatest interest among small and medium enterprises and entrepreneurs from all over Serbia who want to become its members. Organizations from neighbouring countries have also shown a great interest in the activities of the Cluster House, and they shared experience in the field of joining and forming and functioning of clusters.